See: Den Styles for different den appearances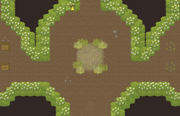 The Den is the player's home. It serves as shelter and protects them from the weather's elements. Time and hunger freezes in the den. After joining a colony, the colony leader will give the player a den to inhabit. The player's den starts with a single room and can be expanded by Molby after they appear in Winter, Year 1.
After Molby's introduction, they will leave a bell in the player's den that can be used to summon them for upgrades and managing decorations. If the player has fully upgraded the den, Molby cannot be summoned again. If the player creates a custom colony or moves to another colony, all of their expansions and items will stay intact. The player's kittens and mate (if they have them) will also move with them.
Sleeping
The player cat can sleep in in the den's bedroom. When the player sleeps and awakes the next day, they will heal some HP and earn 5 XP. The time the player wakes up depends on what time they went to sleep.
Schedule
3 PM to 6 PM: Awake at 6 AM.
7 PM to 12 AM: Awake at 8 AM.
12 AM to 6 AM: Awake at 11 AM.
6 AM to 3 PM: Awake at 7 PM.
Upgrades
The player must wait three in-game days for Molby to complete each upgrade and may not start any new upgrades during that time. After three days, the new room will appear in the player's den.
| | Expansion | Function | Mews |
| --- | --- | --- | --- |
| | Garden Room | Grow 4 Herbs | 275 |
| | Nursery Room | Have Kittens | 300 |
| | Storage Room | 4 Storage Boxes | 250 |
| | Left Spare Room | 2 Storage Boxes | 225 |
| | Right Spare Room | 2 Storage Boxes | 225 |
Den Garden
Six of each herb is needed to grow it in the garden. The player must wait a few days for the herb to grow after planting it.
Decorations
The player can purchase den decorations from the festival shop with Festival Tokens.
| Appearance | Item | FT | Festival | Description |
| --- | --- | --- | --- | --- |
| | Fancy Rug Decor | 6 | Summer | A large warmly-colored rug to display in the entryway of your den. |
| | Pumpkin Decor | 6 | Autumn | A festive carved pumpkin to display in front of your den. |
| | Winter Lights Decor | 6 | Winter | A handful of colorful lights from the Winter Festival to decorate the inside and outside of your den. |
| | Scratching Post Decor | 6 | Spring | An odd two-tiered human item made of lightly-colored cloth to display in your den. |
Gallery
Gameplay Elements
Game Mechanics: Currency, Customization, Death, Difficulty, Experience, Friendship and Marriage, Health, Hunger, Inventory, Reputation
World Elements: Colonies, Den, Festivals, The Forest Guardian Quest, Kittens, Mining, Seasons, Tasks, Weather